A natural, organic, sulfate-free shower gel that purifies your skin without drying it out. Invigorating and revitalizing, it provides a feeling of freshness and immediate softness. Rich in aloe vera, its strong moisturizing power nourishes and preserves the epidermis. Its natural and subtle fragrance leaves a delicate amber smell.
Cleans and moisturizes skin
Strong softening power
Rich in vitamins and minerals
99.2% of ingredients of natural origin, 41.5% from organic farming.
Dermatologically tested
200 ml
Made in Occitanie
A thin, lightweight foam to deeply cleanse your skin with the minerals and vitamins it needs. Fresh and amber-scented, it provides a feeling of softness, leaving your skin smooth, moisturized and free of impurities.  It is formulated with natural and organic active agents, without sulphate and soap, to enjoy a daily cleansing without drying the skin.
Gently cleans and removes impurities

Moisturizes and prepares skin for further care

Regulates sebum without pulling or drying
99.5% of ingredients of natural origin, 68.5% from organic farming.
Dermatologically tested
150 ml
Made in Occitanie
A cream for a completely organic and natural care with beech buds, both soothing, moisturizing and protective. Used daily, it also fights against the effects of time and protects your skin in a natural way. It brings a feeling of freshness and comfort by sustainably improving your complexion. Amber scent.
Moisturizes and soothes your skin

Reduces wrinkles; smoothing effect

High nutritional and restorative power (rich in antioxidants)
99.1% of ingredients of natural origin, 54.7% from organic farming.
Dermatologically tested
50 ml
Made in Occitanie
The skin around the eyes is fine, delicate and wrinkles faster than the rest of the face (fatigue, stress, blinking...). Our eye contour treatment, both anti-dark circles and anti-wrinkles, is specially designed to decongest and smooth this sensitive area.
Immediate lifting effect

Reduces dark circles, puffiness and imperfections

Delays the onset of signs of aging
99% of ingredients of natural origin, 54.4% from organic farming.
Dermatologically tested
15 ml
Made in Occitanie
Made of solid ecru cotton 310gsm - inner lining - zipper
«AUSTRAL Homme» logo printing on one side - All our prints are made with environmentally friendly dyes.
All our toiletries and pouches are labeled "Fair Trade Foundation" and "Bags of EthicsTM," guaranteeing that they have been produced ethically in a fair trade context.
Dimensions: L19cm x H14cm x P10cm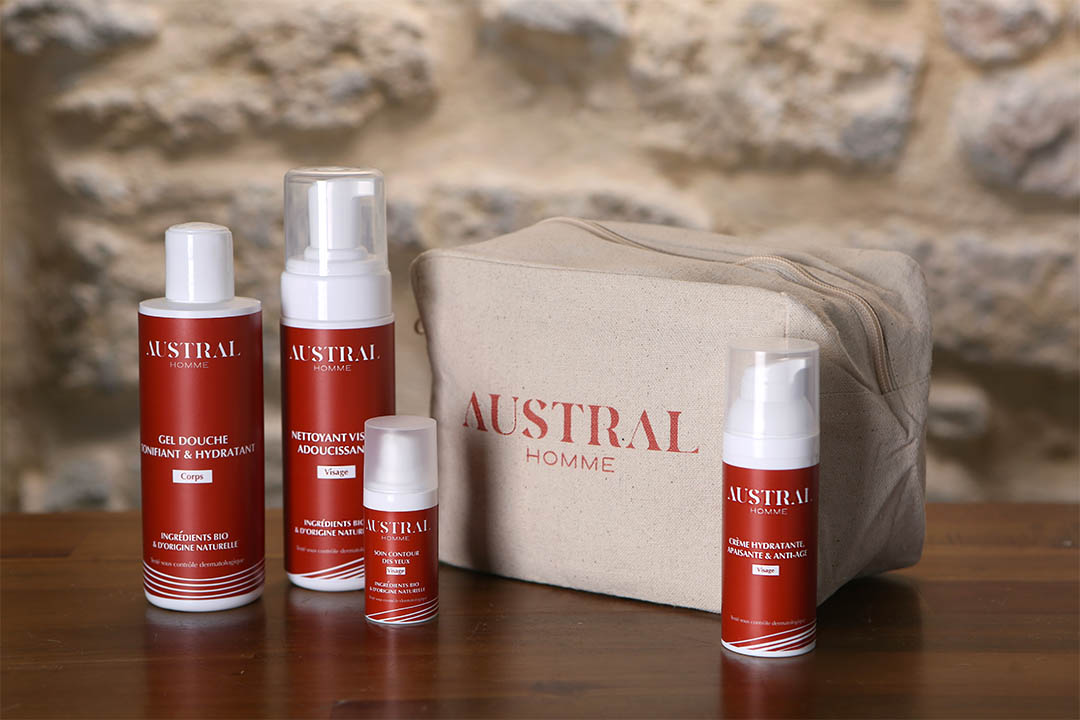 How does the delivery work ?
After validation of your order, your package is prepared and shipped to be delivered within 4 to 6 working days.
You will be informed of its follow-up by email and / or SMS.
You have the choice of the place of delivery (address indicated or point relay).
Where are your products made ?
Our entire range of products is manufactured in our certified laboratories located in the Occitanie region, in the south of France.
Are your products all natural ?
Yes ! Our range of products is developed in France on the basis of natural ingredients (with a minimum of 99%) and from organic farming (COSMEBIO label).
For all skin types
Yes! The complete range has been developed to meet the needs of all types of male skin. All our products have been dermatologically tested.
What specificities for men's skin ?
Male hormones, including testosterone, make men's skin thicker, have more pores and produce more sebum than women's. AUSTRAL Homme has developed a line of products specially adapted and tested to meet these specificities.
Our customers also bought:
Skin care is more effective when used with other complementary care